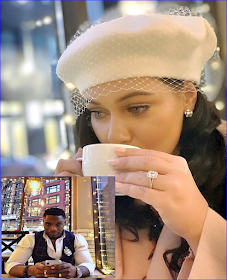 According to Stella Dimoko Korkus' Blog. Big Brother Naija season 2 star Bassey Ekpeyong has quietly married Beautiful Nadia Ann…
The Ebony and Ivory couple are said to have been dating quietly for a little over a year and decided to sign the dotted lines when their love needed to go to the next level…
The quiet wedding held in Detroit on the 6th day of December….
Bassey relocated about a month ago the US to join Nadia who is based in the US but shuttles Nigeria and is friends with 90 percent of Nigerian celebs..
Bassey has been receiving tons of congratulations from his former fellow housemates on his Instagram handle.
Congratulations to Nadia and Bassey.