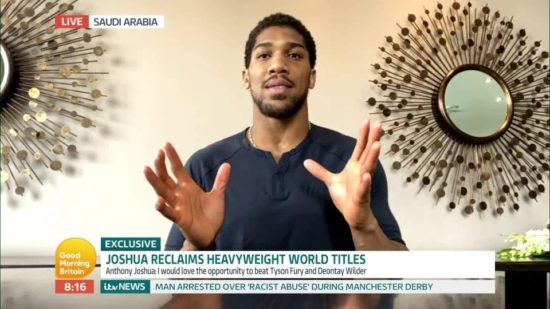 IBF, WBA, IBO and WBO boxing champion of the world, Anthony Joshua has stated that he will like to fight Deontay Wilder and Tyson Fury and he has the necessary style and technique to beat them both.
Tyson Fury and Wilder are the only undefeated heavyweight boxers in the division, and fans are hoping for a mega fight that will involve Joshua and either Fury or Wilder after Joshua defeated Andy Ruiz unanimously in Saudi Arabia on Saturday night to take back his heavyweight belts.
Fury will face Wilder on February 22 in Las Vegas in a rematch that is sure to spin heads with the Lineal heavyweight belt and WBC belts on the link, after their last fight in 2018 was adjudged a draw despite Fury being the more technical and clinical of the pair.
Fury and Wilder have both been critical of Joshua with both fighters accusing Joshua of avoiding them for the last two years but Joshua has now come out to say he will beat both fighters if and when they ever fight.
Speaking to Good Morning Britain programme live from Saudi Arabia on Monday morning, Joshua was asked whether he was going to fight them next and said: "I would love to make that my next fight.
"I'm taking it one step at a time. Whenever they are ready they know where to find us.
I'm not a running champion, I'm someone who will fight the best in the world.
"Deontay Wilder and Tyson Fury are those guys. I'd love the opportunity to beat Wilder or Fury.
"You can see I'd beat them.
"I've displayed different styles of fighting. Sometimes inside fighting, sometimes knockout fighting and sometimes a boxing man's fight.
"So I feel like I have their number because I can display a variety of skills when it comes to boxing."
There's also the possibility of Joshua defending his IBF belt against mandatory challenger Kubrat Pulev, and Joshua says he'll relish it.
Asked about the prospect of fighting the Bulgarian bruiser in London, AJ said: "It would be mega. Looking at how many people came out here shows there's still a big interest in the heavyweight division, especially now we are taking the belts back.
"To defend them back on home soil would be big news.
It would be better against another Brit but, if not, I will follow my mandatory and crack on that way.
"London's calling, I think. We've been away for the whole year but it's nice to have a breather.
"It's nice to have a bit of controversy, a bit of doubt.
It just shows that British supporters do play a big part in my career. Any time I'm on home soil I can't lose.
"The work begins again because around March I'll be defending those titles again. I'm already focusing on my next fight."