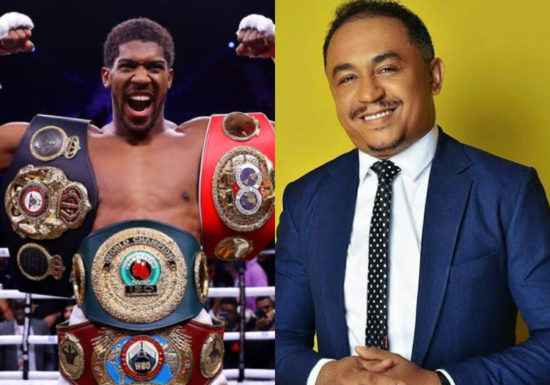 British Boxer with a Nigerian root, Anthony Joshua has reclaimed his heavyweight titles six months after initially losing them to Andy Ruiz.
The 30-year-old Watford-born boxer emerges victorious at the end of the 12th round in the bout having amassed more points than his opponent.
Following Joshua's victory, Nigerian controversial OAP, Daddy Freeze has stated that Nigeria does not deserve Anthony Joshua.
He said this in a statement he posted online, stressing that the country doesn't deserve the Boxer.
He said, " A so called Nigerian Anthony Joshua is fighting and no NIGERIAN station is showing it live. – Must we fail at everything? When he wins now we will be jumping up and down, shame on the satellite tv stations you guys have failed!"
" If it is to repeat movie, na there we go see you. "
Freeze added, " Nigeria does NOT deserve Anthony Joshua! – He flew our flag, entered with Fela in the background AND WON! – What's our contribution been to his success story? NOTHING! – We are good at claiming success but terrible at creating the enabling environment for or making success! "
Nigeria does NOT deserve Anthony Joshua!
–
He flew our flag, entered with Fela in the background AND WON!
–
What's our contribution been to his success story? NOTHING!
–
We are good at claiming success but terrible at creating the enabling environment for or making success! ~FRZ pic.twitter.com/jF4Cs3nWJl

— Daddy Freeze (@DaddyFRZ) December 7, 2019